GiveForward's 6th Annual Ugly Sweater Pub Crawl.
Bring on the vests and cardigans! Change the battery pack in your light-up sweatshirt! Don those reindeer antlers that your dog won't wear for more than ten seconds, and come join us in Wicker Park for the coziest, jingliest afternoon of drinking you will experience all year.
What's that you say? "If only I could be wrapped up and covered in sequins like some kind of Christmas Poly-blend Burrito, while I drink beer with my friends…and become a more awesome person who gives back to my community…AT THE SAME TIME!" Fear not, my glittery compadres!
Saturday, December 7, 2013 from 11:30 AM to 6:00 PM (CST)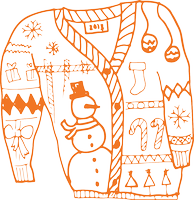 It's all for a good cause.
The proceeds of this year's Ugly Sweater Pub Crawl will go towards purchasing items for The Christmas Store, a 4-year-old program that enables parents of students at William H. Brown School of Technology and Nathaniel Dett Elementary to shop for their children's holiday gifts at a discount. Gifts are sold to families at a reduced rate so it doesn't feel like charity, and 100% of revenue from sales goes right back into programs that directly benefit the schools.
To learn more or purchase tickets for the event, visiit